April 2022: Spotlight on activist orchestras
In this collaboration with Represent Classical, I interview three orchestras resisting the Eurocentric paradigm.
In this collaboration with Represent Classical, I interview three orchestras resisting the Eurocentric paradigm.
The activist orchestras pushing the industry forward
By Makeda Easter
I didn't expect to take a month off so soon after launching this newsletter, but wedding planning became all-consuming in the months leading up to the big day. Excited to be back in your inboxes now though! I recently collaborated with Represent Classical, a publication centering stories of classically trained BIPOC musicians created by journalist Christine S. Escobar.
For Represent Classical, I wrote about activist orchestras pushing the classical music industry forward. The story focused on The Dream Unfinished, PROTESTRA, and Sound Off: Music for Bail.
These groups are part of a movement of grassroots, activist orchestras that have emerged in recent years across the country. Their existence is a form of resistance against mainstream classical institutions that have been slow to change and diversify. (In 2021, the Metropolitan Opera presented an opera by a Black composer for the first time in 138 years.) Through benefit concerts, workshops and platforming emerging artists of color, the orchestras represent alternatives to the paradigm of classical music and are setting the example of what an inclusive industry could look like.
Read the full story, Resisting the Eurocentric Paradigm: Activist Classical Music Groups Effect Change, on Represent Classical's site.For this newsletter, I'm sharing excerpts from the interviews that didn't make it into the full story.
Responses are edited for clarity and length.
Protestra
PROTESTRA is a nonprofit orchestra dedicated to raising awareness around social justice issues through benefit concerts. The group uses Instagram to educate nearly 7,000 followers on issues in the industry and how to advocate for change. Their composer feature series highlights women and composers of color. Another social media series educates on the cost barriers associated with pursuing a career as a professional classical performer.
I asked Michelle Rofrano, a conductor and the founder and artistic director of PROTESTRA:
How would you like to see the classical industry evolve?
I personally want to see classical music recognize its inherent biases. Some organizations are starting to say, 'oh, maybe we should add a composer of color to our season. Maybe we should hire a couple women conductors on our season.' It's not enough just to do that. We need to look at the reasons why we don't feature more composers of color as the main concert on the season. It's like Beethoven's the main guy and here's a chamber concert of Black composers. And that's not enough. There are extremely talented, extremely brilliant composers who wrote extremely beautiful and moving works from every identity out there. And by not featuring and holding every talented composer on the same level as Beethoven and Mozart, we're missing out on fantastic repertoire.
I really want to see the classical music industry stop putting composers and leaders on a pedestal. I personally think a lot of composers — the dead white guy club — were really problematic. If we're going to perform the work of these composers, let's talk about them as humans. They were a genius and forward thinking in this way, but they had some really terrible ideas on this front. Classical music is not untouchable. These geniuses were not untouchable. It's not better than other art. It's just art that was meant to express emotions by humans — by humans who were flawed. It's kind of like for people, how you go to therapy to self reflect and only by self reflection can you improve. Classical music's got to self reflect. Let's just be honest with ourselves.
Of course, I hope to see more diverse stories and experiences shared on stage, because all stories are worth sharing and that's ultimately what brings us together, whether it's orchestral music, or chamber music. Most people can't relate to every aspect of the story, but most people can relate to just the core human emotions expressed in a story. And relating to a story and relating to characters who might not look like you or might not have your experience is how you grow empathy. Empathy is a muscle to be exercised and telling stories on stage in a way that directly accesses people's emotions. And I think they need to be supported and told not for reasons of large organizations coming under fire for not being diverse enough, so they check a box. By not having diverse composers, we're genuinely missing out on so much talent, we are all the poorer for it.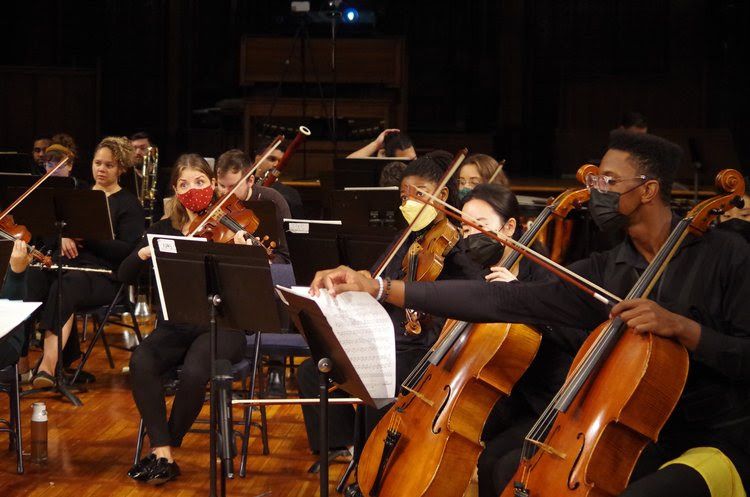 PROTESTRA hosted its Concert for Climate Action in October 2021. A portion of proceeds went to environmental justice groups WE ACT and the Defense Fund.
The Dream Unfinished
The Dream Unfinished began in 2015 as a direct response to the killing of Eric Garner at the hands of New York police. After incorporating as a nonprofit a few years later, the orchestra tackled social issues including #SayHerName, climate change, immigration, and voting rights. One of the group's most powerful actions, leaders say, was placing a violist near a New York voting booth in 2020, which dramatically increased foot traffic.
I asked co-founder and executive director Eun Lee and board chair Lee Bynum:
How has the industry changed since you started the orchestra in 2015? Are the changes we've seen from major institutions performative (I referenced the black squares of 2020), or is it a sign of real, lasting change?
Eun Lee
After the first concert, when we were trying to formalize, I remember saying we should call ourselves an activist orchestra. And one of the co-founding members actually said, 'don't you think that's too strong?' And I was like, but that's what we are. The whole point is that we're strong. Definitely more then, but still now, when I say activist orchestra, people will do a double take. And that was the point.
Many of us rolled our eyes over the black boxes, but it was because there were no black boxes in 2014 when Eric Garner was killed. Before I was an arts administrator, I was a teaching artist for a number of years, and I worked in the El Sistema community. And I remember specifically that summer of 2014 feeling very conflicted, because the El Sistema community, as well as broader music, education, arts education initiatives, ostensibly are all about serving the community. You look at their marketing brochures, and they all have a certain complexion of child that's on them. And yet, at that time, not a single one of them was making any kind of public stance on these sorts of issues. I remember even asking someone who was a director of one of these programs, are you going to talk about this with your kids? And he said, 'well, this doesn't really affect us. So no.' It wasn't some clueless white person. He too was a person of color. But at that point, [it felt like] that's happening over there. We're just playing our Suzuki book 2 over here. For me, it was that disconnect, that helped to spur us gathering all of these people to start this conversation. So that's really the backdrop against which it was founded. And so the fact that now we do have programming by composers of color, by major orchestras and that that's being taken seriously, those are all great strides.
There's also a lot of missteps, some that I think are actually very well intended, and some that are more calculated as far as simply checking off the box. And in some ways, frankly, I think The Dream Unfinished is also kind of a liminal ensemble, because I think the dream will be finished when people are not dying. That's another thing that I've wanted us to also be very cautious about — how can we instead do the programming in a way that's not reactive, but more holistically responsive? That's why we've been shifting towards themes. Last year we did more related around civic engagement and voting, but then we also had a health and wellness outdoor music festival. How can we do preventative care, like getting at things that are more proactively working towards what it is that we want to be imagining and living in. And not just oh, this is terrible, let's respond to that.
Lee Bynum
I have been doing DEI in the performing arts for what feels like a lifetime. And I can say, even those black boxes, we wouldn't have gotten those 12 years ago. So even that is a move in the right direction. I also work as an EDI consultant across nonprofits, but my interest is primarily in working in the arts. And I know how much more work I have now than I used to. There is a lot that I'm doing with museums and ballet companies and theatre companies and orchestras. It feels not as substantive as it needs to, but the fact of the matter is, they're willing to write the checks because they understand that their audiences, their staffs, and increasingly, their boards are interested in knowing that this is something they're engaged in. And even if for some places, it is a ticking of the box, this was not a box that anybody was willing to write a check to have ticked before.
What we're talking about here is a very long process of getting people to be deprogrammed and then think differently about something. It's not going to show up overnight. It's not going to show up over a decade. I think the pace of change in the last five years has been extraordinary. There are things that I'm doing personally, professionally with The Dream Unfinished; there are things that my husband does as a singer composer, I never would have thought that this would have happened even 5-6-7 years ago. I feel like for those of us who sit with this every day, the pace isn't quick enough, it feels like a lot isn't happening. But I think if you actually think about the overtime pieces, the amount of movement that has happened in a very short amount of time — it's stunning.
Sound Off: Music for Bail
Jay Julio, a multi-instrumentalist and first generation Filipinx-American, created Sound Off: Music for Bail in 2020. The organization, which is now on hiatus from live performances, uses classical music as a tool to break the silence around the prison-industrial complex. I asked Jay, who is currently part of the Los Angeles Orchestra Fellowship:
How do you envision your path in classical music — do you stay within the system and try to change it or do your own thing outside of the institutions?
These are the kinds of questions that me and thankfully the people I surround myself with ask ourselves constantly. There's no one option for everybody. I think if I had grown up middle class, and not what I am, which is having grown up on food stamps, I would see myself going even more disruptive. And I don't think anyone can exist as an island. The power of what we do is in our community. So I prefer to stay and be in with the community that I think I can organize with. I work a lot in the conservatory and classical music settings of course, but I also interface as much as I can with communities, with some people who have lost family members to police brutality. I work with survivors' circles. As a survivor of sexual violence and as an abolitionist, I found so much in that intersection.
I'm also guided by this Robin D. G. Kelley reading — he was speaking specifically to Black radicals at universities, which I obviously am not, but I still feel deeply guided by his voice. He told people university is not going to be a liberatory thing that you might have thought it was, even if you are studying critical studies. It is a white supremacist institution. But it has resources and you should hide away, you should assimilate into the university and take what you can and run as far as you can with the resources that are there. And I think this for me makes the most sense. I wouldn't have had the knowledge that I have about the system had I not experienced it. From the inside and from the outside. And so I feel like I have at the very least a strategy. It might not be the best strategy out there, might not be making as much change as I'd like. But at the end of the day, I do feel being both within and without, and steeling yourself with your experiences outside of the system, this leaves me with the most amount of personal and public strength to make things move.
Additional reading
Jay mentioned Robin D.G. Kelley, an academic at UCLA who studies social movements in the U.S., Black intellectuals, music and visual culture. Check out Kelley's essay in Boston Review on navigating the university system as a radical activist.
Some personal news
the art rebellion was selected to be part of the Tiny News Collective, which supports independent media organizations across the country. This means we'll be getting a new website and using a new newsletter service soon —yay!
If you enjoyed this newsletter, please consider sharing with a friend. In the spirit of transparency, I now have 122 subscribers (and haven't done the best job at promotion). I'd love to get to 200 in the next couple months. And if you haven't already, check out the art rebellion Instagram.
Our mailing address:
4800 Hollywood Blvd.
Los Angeles, CA 90027

Copyright © 2022 the art rebellion, All rights reserved.