Artist $napshot: Charlottesville-based poet and spoken word artist
"If your name here doesn't have that MFA with it or behind it, then you're definitely not getting as many opportunities or even being respected as much."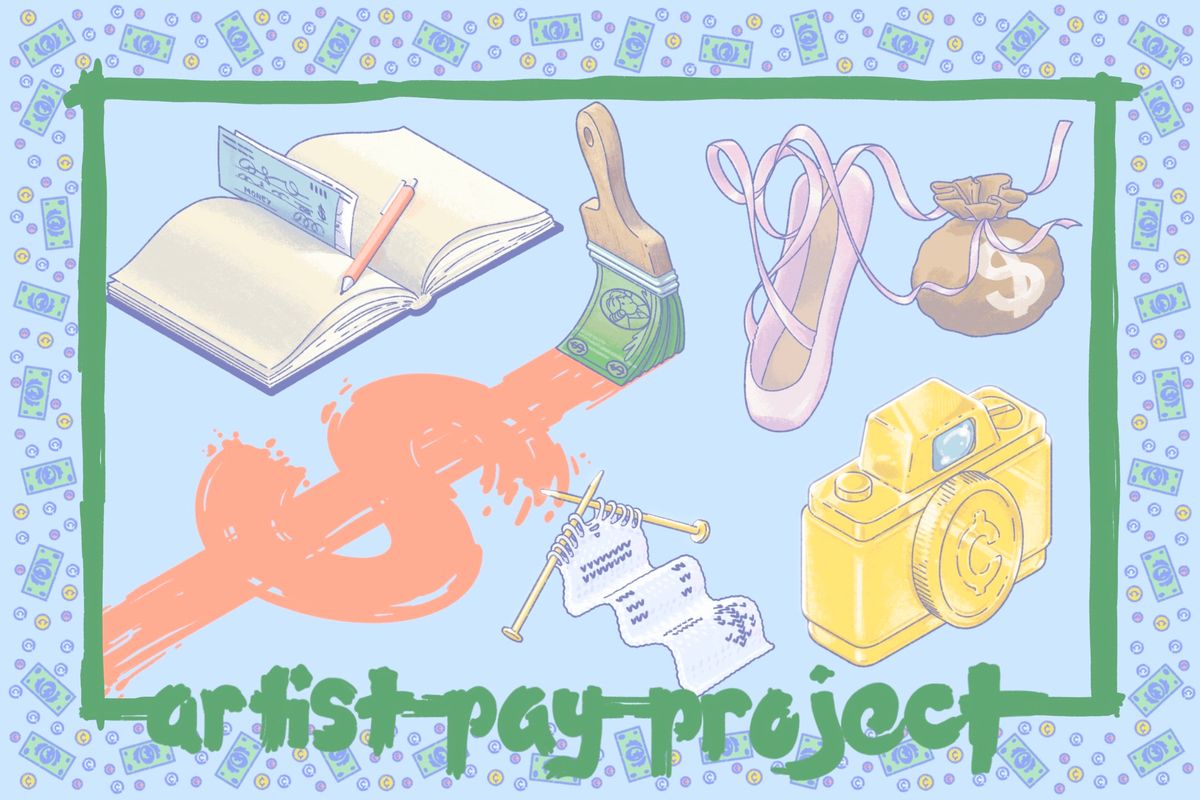 The Artist Pay Project is a series exploring how artists in the U.S. survive and thrive amid a cost of living crisis.
This Artist $napshot tells the story of a 49-year-old writer, poet, and rapper who is currently unemployed.
Survey
Art Practice: Writer, poet, rapper/emcee, spoken word artist, performance artist
Location: Charlottesville, VA
Age: 49
Pronouns: He/Him
---
Earnings
Income:
At the moment I am unemployed. But sometimes I get poetry gigs and those average $100 to $250.
How much of your income is from your art practice?
100%
Where does the rest of your income come from?
I recently worked for a nonprofit organization, I was making $60,000 a year with them up until February 2023.
How much were you paid for recent gig work?
The Unitarian Universalist Church of the Rock River Valley: pay was $150
The University of Virginia: pay was $150
How do you price your work?
I sell books. They are priced on average at $10 a book.
---
Expenses
Housing:
At the moment, my apartment is $750 a month. I have roommates. We pay our rent separately.
What are your major monthly expenses?
Car insurance: $286 a month
Car note: $300 a month.
Do you have any expenses related to your art practice?
I have a studio, which costs me $150 a month.
---
Larger financial picture
Do you have any financial support from outside sources?
My family helps me with food and gas expenses.
Have you received any grants to support your art?
No, no grants.
Do you have health insurance?
No, at the moment, I do not.
Do you have any debt?
Yes, I have student loans and credit card debt. I would estimate that at $50,000.
Do you have any savings?
I have $1 in my savings.
Did you pursue higher education?
Yes, I went to college in Mississippi and in Tennessee.
Anything else you'd like to add?
I am on a site called GigSalad. It seems rare that I get booked for gigs on that site. I believe what I am asking nonprofits and the like believe it is too much, even when I am asking for no more than two or three hundred dollars per performance.
---
Q&A
Responses edited lightly for length and clarity.
You mentioned that you used to work for a nonprofit. Did you leave to pursue your art full time?
I left that nonprofit in February — it just didn't work out. I moved to Charlottesville because of the nonprofit. I got the job with them as a program director. Also I found my roots here in Virginia and I'm into ancestry and genealogy. So those two things motivated me, but unfortunately the nonprofit gig didn't work out, so I resigned. I do have a studio at a place here called Visible Records and they have very affordable studios for artists of any kind.
Could you describe the art scene in Charlottesville, what it's like for artists trying to make a living and make their work there?
It's similar to where I was born and raised in Rockford, Illinois. It's usually the visual artists who are making the most money in communities. At least that's how I've experienced it, so definitely a thriving and burgeoning visual art scene. There's some graphic design probably involved with that too, and a ton of poets, especially because of the rich, poetic cultural history of Virginia, but also because the University of Virginia is here and they have an MFA program.
So you'll find all kinds of poets, writers, here and people in the margins of the MFA program, like myself. I'm mostly a spoken word poet. I write poetry but I think it's a different level when I do spoken word. And there's only a few real, true spoken word artists here.
Do you feel like you're paid fairly for spoken word performances, and have the rates increased since you started?
I've probably under asked for payment. I've actually performed at the University of Virginia and I requested payment. I don't think that was fair that I had to request payment when I'm a professional. But some folks there expect poets to perform for free. It's crazy when we're some of the most talented or gifted people on the planet, but I think that's history. I'm always being underpaid for my work when I know that I'm pretty good at what I do and I stand out. So I'm hoping that changes.
What would it take for you and other poets to not be underpaid?
It would probably take a national movement for poets to be recognized for our gifts and talents on a scale that will wake people up. Definitely that and also for poets like myself to demand or ask for more when we're asked to perform.
What were the rates like when you first started doing poetry and spoken word and how have they changed over time?

I've just been booked by the Rockford Public Library back in my hometown, and they're paying me $150 for about an hour, which ain't bad. But I remember when they were paying me $50 to host an open mic. So things have increased. There's been other times where I've been brought into a city that I've never been to, and there's this whole weekend so I would do poetry, but also deliver a sermon, or lead a discussion on racism or equity or social justice — we'll be there for a weekend and leave with about $800, $900 dollars, and that ain't too bad. But I don't get those often enough for sure.
Do you think it's possible to be a full time writer, poet, spoken word artist, or do you feel that you do need to have a 9-5 job to sustain yourself?
I have come to a reality that I'll definitely need some type of job at a nonprofit or social justice leaning corporation in order to really be able to pay the bills and take care of myself, because it's tough to make it, especially as a poet or a spoken word artist. I was just telling somebody recently that you need to be Maya Angelou, or somebody like that in order to make it truly as a poet. It's hard. This economy hasn't been built for it and not enough people have pushed for equitable pay for a poet, a spoken word artist.
What kind of resources would help you as an artist when it comes to being able to make a living and make your work too?
Definitely, organizations being willing to share some of their budget with gifted or talented poets and spoken word artists. Across the country, that would be super helpful. Consistent gigs for sure. And people being willing to reach out to people like myself and make sure that we're booked. I do a ton of networking and outreach and I'm making a little headway this year with some things that I've applied for. And I think having a publicist or a social media person that is just as aggressive as I am when it comes to getting booked and putting myself out there.
When you worked for the nonprofit, how did you juggle a 9 to 5 with making time for your art as well?
At the last nonprofit I worked for, in some of our open sessions or meetings, I would open up with some poetry, but they weren't necessarily paying me for that. But I just wanted to throw that in there. On the weekends, or in the evening time, I hit up open mics or tried to find some features. In the features, that's where most spoken poets get paid at. I haven't found a ton out here and then things are pretty spread out here in Virginia, especially on the feature front. Being able to hit up events in the evening time, in the nighttime, or on the weekends.
Within the community that you've built of other poets and spoken word artists, how do you think they feel about their financial security?
Especially here in Virginia, in Charlottesville, there's a lot of money here. So folks are already pretty secure. I don't think they're really worried about it and some of them are in school. So they're covered by their financial aid that they'll get. That's the conversation that needs to happen here more. It seems in Charlottesville, if you're not connected to a nonprofit, or if you're not popular here in this scene in order to generate funds, then you're going to struggle as a poet or a spoken word artist.
So myself, since I'm nationally recognized and known as a poet, spoken word artists, I can reach out to different people, places and get gigs, but it seems like people are pretty secure here already.
Is your plan while you're unemployed to lean into your art, or are you looking for another full time gig?
Even when I'm not thinking about it, I'm doing my art because it's just a major part of me. I've been writing since I was nine years old and performing since 10, doing talent shows in my hometown Rockford, Illinois. Even when I least expect to write a new poem or record a new song — I also record spoken word, and I'm an MC, I rap too. So I've been doing some of that. I've been making music, making beats and recording new stuff and performing. I'll consistently do it.
I'm currently looking for employment now. That's just the way it is right now. If I could do more art full time, I definitely would. There's nothing that makes me happier and it's where I'm probably most confident.
Good luck with your job search. Was there anything that I didn't ask that you wanted to add?
I'm a Black dude so, there are not a ton of – there are some writers, the Charlottesville scene if you mention spoken word they're like, "oh my god, he does spoken word, he's not in an MFA program." It seems kind of new to them or something that they don't even want to touch or approach. So I definitely stand out as a Black male who can do spoken word, and do it in a way where I'm pretty confident on stage. I stand out big time here.
But when I go to Richmond, that's where I find more people like myself. If I lived in Richmond, it would be a totally different thing. I'd probably even make more money as a poet there or definitely get booked doing more features.
Can you speak more about what it's like to not have an MFA?
It's privilege. At UVA, people around here treat it like it's Harvard. If you're connected to any program there then you're good to go. So people take advantage of that. I think that if your name here doesn't have that MFA with it or behind it, then you're definitely not getting as many opportunities or even being respected as much.
That's interesting — do you know why that might be?
I think it's the culture of classism or being connected to a university like UVA, it's the culture of this country and how things have been set up. But I was talking to a gentleman here who lives in Richmond right now, he writes and performs there, you put a spoken word poet up against somebody who's going for their MFA or has an MFA, a lot of the time there's no comparison because the MFA is teaching you to write or be a certain way, where as spoken word artists, we have complete freedom of control to do what we do, and do it in a way that's not limited or even critiqued.
Read more about the Artist Pay Project.