Artist $napshot: Chicago-based painter
Family support and rental income helps sustain this artist's practice.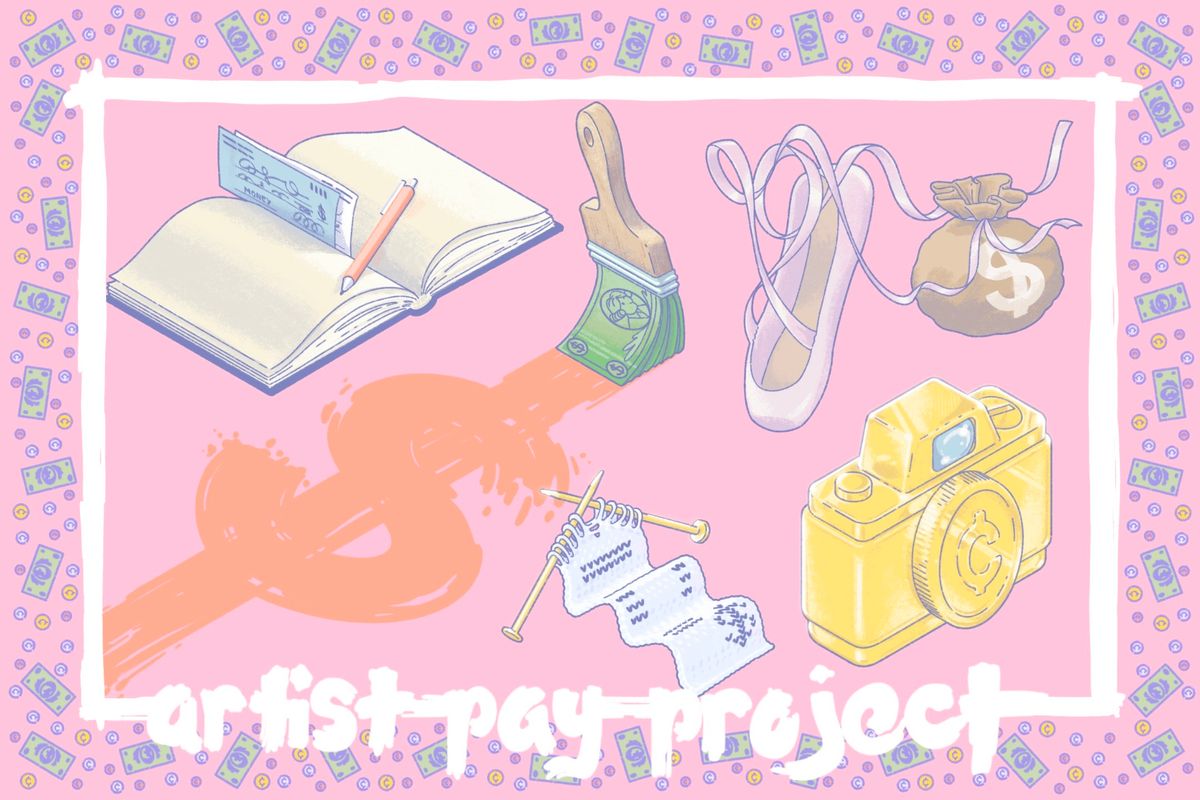 The Artist Pay Project is a series exploring how artists in the U.S. survive and thrive amid a cost of living crisis.
This Artist $napshot tells the story of a 27-year-old painter who made $3,000 from her art last year.
---
Survey
Art Practice: Painter
Location: Chicago, IL
Age: 27
Pronouns: She/Her
---
Earnings
Income:
No fixed income.
I made about $3,000 from my art last year. For this year, I have not sold anything yet, I am still making a new series. But I am doing the staffing for an art event [in April] (which I don't normally do) and I'll make about $400.
How much of your income is from your art practice?
80%
Where does the rest of your income come from?
I used to do some teaching, sometimes do some staffing of art events. I make about $20 an hour for this work.
How much did you make from recent freelance work?
Art collector: $150 for selling small paintings through the gallery and after tax, gallery fee, transaction fee, and delivery fee I received about $70.
Art collector: $1,000 for selling medium-sized painting from the art fair. It wasn't the only piece that got sold from the fair but the booth fee was about $1,900, travel fee was about $1,000, and other expenses. Including the small pieces, I did sell numbers of artworks, but after the fair commission and all the fees I paid to be at the fair, I earned almost $0.
Live art event: Did the live art for 2 hours and received $250 in cash. Happened locally, so there was no travel expense. Art materials were not provided but it was okay to bring my own.
How do you price your work?
Depends on the hours I spend on each piece. If one artwork is featured on some source, that specific piece is priced higher than the same sized painting. Price ranges from $100 to $8,000.
---
Expenses
Housing:
$3,900 for rent including parking. I live with my husband.
What are your major monthly expenses?
Food — depends on how much we eat out. It ranges from $1,000 to $3,000.
Sports facilities — around $400, much less during the winter
Shopping — not every month, but if I have to pick top three, I would include this.
Do you have any expenses related to your art practice?
Art supplies. I would say $70 if I need to say it as a monthly expense. But I normally purchase it as a bulk discount.
---
Larger financial picture
Do you have any financial support from outside sources?
Yes. Family and rent income.
Have you received any grants to support your art?
No
Do you have health insurance?
Yes
Do you have any debt?
No
Do you have any savings?
About $100,000
Did you pursue higher education?
Yes
---
Q&A
Responses edited lightly for length and clarity.
Could you talk about your overall financial security, and how you make your income work with the expenses that you have?
Basically, I'm getting family support — from my husband's income, and I'm getting rent from my tenant, and I also get help from my parents as well. I do make some money, but artists have got to spend a lot of money. When I make more money, I do spend more, I do invest more on myself. That's how it goes.
You mentioned earning rental income. Do you own property?
Yes, in Chicago.
How much do you make from the property you rent out?
It's about $1,600 per month.
What are the biggest challenges you've experienced when it comes to making money from your art?
Selling big art. Because if I do sell a big piece of art, I need to pay a lot of fees, like delivery fees. And also if I sell to galleries, I need to give them 50% of the deal, which is a lot. So even though I sell one piece for like, $5,000, I'm just getting $2,000.
Can you talk a little bit more about how that process works?
Usually gallery contracts are 60 to 40, or 50 to 50. For the online galleries, they do like 30 to 70. So I took 70 but not the whole 70% of the sales. I feel like they took out the transaction fee and I have to pay for the delivery fee.
What's the delivery fee usually?
It really depends on the size and the location. Sometimes there's shipping overseas and it's sometimes local. If it's local, I can just drive and deliver it and the shipping fees are nothing.
Do you think it would be possible to pursue your art full time if you didn't have family support?
It would be almost impossible. I know there's a lot of artists who have a full- time job during the daytime. And then make their art after work, or during the weekend. For now, I don't really have to have a full-time job. I sometimes do part-time jobs, like staffing at the gallery, teaching. This kind of thing.
You mentioned having family support. How does that work?
They give me money each month.  
Within your community your friends who are also artists, how are they making ends meet?
I know some artists like me with some family support. Some work during the day time. Or there was one artist who worked as a bartender during the night time, so that she can work as a full-time artist during the daytime.
What are your your financial goals when it comes to your art in the next 5 or 10 years?
Make enough money to support myself fully at the fairs, so that I can rent a full, solo booth.
I didn't realize artists had to pay for that themselves.
It really depends on the fair, but some are over $10,000.
How long have you been working full-time as an artist? And how has your income changed since you started?
It's been five years and it's almost the same since I started. It depends on how much I work as a teacher or something else. I used to work as a curator too, and that doesn't pay me that much either.
Is there anything else you wanted to add about your experiences working and making money as an artist?
Sometimes I have to pay for the entrance fee for the fairs. There's so many things that artists have to pay for.
Read more about the Artist Pay Project.