Artist $napshot: LA-based painter and illustrator
"The strain being felt from stagnant wages and crushing debt feels like it's reaching a fever pitch for most low-middle income Americans and artists especially."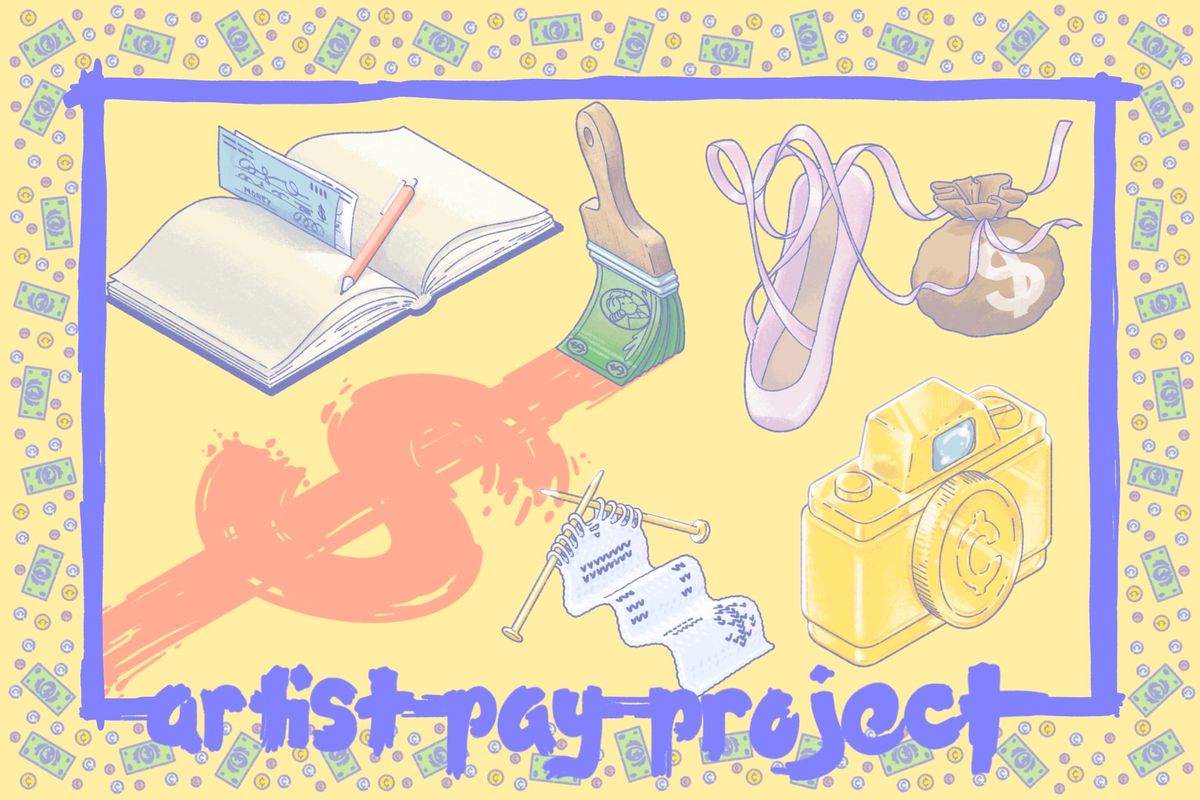 The Artist Pay Project is a series exploring how artists in the U.S. survive and thrive amid a cost of living crisis.
This Artist $napshot tells the story of a 31-year-old painter who makes $1,650 a month.
---
Survey
Art Practice: Painting, drawing
Location: Los Angeles, CA
Age: 31
Pronouns: He/him
---
Earnings
Income:
$1,650 a month
How much of your income is from your art practice?
Around 40% depending on what size I'll be working at.
Where does the rest of your income come from?
The majority of my income at this point comes from my non art making job. I currently work part time at Barnes and Noble.
How do you price your art?
Occasionally I have people reach out through Instagram to purchase work. I have sold paintings ranging from $300 to $700 depending on the size.
---
Expenses
Housing:
$0. I currently live at home with my parents.
What are your major monthly expenses?
Gas for car $170
Groceries $250
Pet food/medications $150
Do you have any expenses related to your art practice?
My studio is located in the backyard of my parents' house and I don't pay rent for that.
Apart from that, materials including wooden stretchers, canvas and gesso can be around $100 to $150 a month. New paints, medium, and brushes can be $60 to $90.
---
Larger financial picture
Do you have any financial support from outside sources?
I am extremely fortunate enough to have parents who are incredibly supportive and don't charge me for rent. Assisting with groceries and helping take care of pet costs/visits is a way I help to make up for it.
Have you received any grants to support your art?
No, but I have continued to apply for several fully-funded residencies.
Do you have health insurance?
Yes, through Covered California.
Do you have any debt?
Approximately $40,000 remaining to pay off in student loans.
Do you have any savings?
Approximately $2,000.
Did you pursue higher education?
Yes I have a BFA from San Francisco Art Institute.
Anything else you'd like to add?
I currently work part time at Barnes and Noble and am extremely fortunate enough to have consistent hours because of my role in the receiving department. I maintain a part time position in large part because I need the time and space in between for painting. I am fortunate enough to have a studio set up that I am not paying rent for either.
However this arrangement feels tenuous at best, with the looming likelihood of having to resume paying my loans once the Supreme Court decides what it is going to do regarding the Biden administration's plan to forgive a modest amount of debt for borrowers. I'm not exactly sure what I'll do in that case.
The pause in the pandemic has allowed me to save a little more and experiment a little more boldly with my materials in paintings. The strain being felt from stagnant wages and crushing debt feels like it's reaching a fever pitch for most low-middle income Americans and artists especially.
---
Q&A
Responses edited for length and clarity. Interview conducted in April.
How do you feel about your financial security right now?
I feel a little bit better than if you had asked me that a month ago. I'm in an okay, precarious situation. I live with my parents. I have since the start of the pandemic. It's been really hard to move out and find steady work. The big thing that comes in between that is that I need the time for my art practice. I took working somewhere full time off the table because I need the time in between to paint, studio visits, studio visits with friends, etc. And I know from personal experience and from other people who do work full time that that is harder to do when you're working 40 hours a week.
It's a big sacrifice that I need to make in order to maintain that. But it does also make moving out, for example, or even finding another studio a little bit more difficult. I work at Barnes and Noble and recently, I got moved into being in the receiving department which gives me steadier hours than it would be if I was just a regular bookseller doing customer service things.
So I work between 24 to 30 hours a week, which gives me a little bit more time to do things in between, every other day that I work. On a good week, I'm painting on my days off, going to get materials, whatever I need to do. I feel a little bit better about things than I have because prior to that, my hours were 20 hours a week, maybe less, just depending on how busy the store was and other staffing things.
Do you feel like working 24 to 30 hours is the sweet spot, and do you hope to eventually work full time on your art?  
Ideally, yes. I'm also always looking for opportunities to just do that. I'm always applying to different residencies. I feel a little overdue for another chunk of time just to be working on things. But that is the goal, splitting things in half is really hard to do, even though I do feel a little bit more fortunate than other people I know who work several different kinds of jobs, who hustle between different things and still have to find time for their studio practice.
I'm also really fortunate that my studio is at my parents' house. I have this little shed in my backyard, so I'm not paying rent for that either. I did recently have an opportunity to try to find another studio, but that fell through. I was going to be splitting [a studio] but I realized it wouldn't make much more sense for me to pay for a whole studio unless I was working less.  
Do you hope to leave your parents' place at some point, or is that the best option for making a living and doing art at the same time?
I would. This has been on my mind a lot lately too. Because I realized that I'd have to choose between getting a studio or moving out. This is probably the case elsewhere — especially in places like New York — if you have a studio elsewhere, you're basically paying rent for two places. So I would have to choose and I would rather choose to move out and then find a way to keep my studio here. Similar to the routine I had before when I wasn't living with my parents. I didn't have quite the studio setup that I had now, but I would come here on my studio days to do things here. Also with housing costs in LA, renting is a lot harder to find than it was pre-pandemic.
What are the biggest challenges that you've experienced when it comes to making a living from your art?
Honestly, it's still [about access]. A lot of the art world without grad school is sort of an insiders club, it's like a big party that you don't always get invites to. Based on that, it can be really difficult to find shows, find the momentum to be in multiple group shows. I've been in a handful of group shows where I haven't sold anything necessarily. And so finding a momentum out of that is really hard without the access of grad school to procure those available networks, along with the studio time.
But every now and then, I do have people or friends who will share something that I'll do and that might lead to someone who's interested, a collector, and that's $600, $800 for a painting. This doesn't happen often. But sometimes out of that, that's half a month's paycheck and that can be somewhat useful for whatever makes sense at the time.
Are there any resources that you think would be most helpful to you when it comes to making money from your art and being able to live and be an artist at the same time?
Honestly, the health insurance thing. Just a higher minimum wage too at this point. I'm fortunate that Glendale pays a little bit more than the standard LA minimum wage, but it still doesn't feel like a lot. That's the biggest one. Again, I don't know how other people are making these things work. It's just a lot of combining different kinds of gigs. Something that doesn't get talked about with minimum wage jobs is the steadiness of what that means to work a minimum wage job.
Prior to [my current job], I was working at a theme park where we were paid a little bit more than I'm getting paid now. But you were lucky if you would get 20 hours a week. They would fluctuate. I don't think it works for anyone to work 20 hours a week anywhere. It certainly wouldn't work for me.
Among your community of artist friends, how are people making it work in LA where the cost of living is so high?
Everyone's in different areas. I have friends who teach a lot. But the teaching positions don't pay as much as they should or they're infrequent. So they have to take gigs elsewhere. I have one friend who was hopping around between doing art handling for a good long while, and he's found steady employment with one gallery. They're pretty much offering him — I think the last time I talked to him — they were going to offer him full time. But prior to that, he was basically working full time.
And that's the experience of a lot of people who work in jobs like art handling, you're essentially going beyond the part time requirements but it hasn't been offered to you as a full time position, because of all the benefits that that would entail.
I also have a handful of friends that just moved here who are doing quite well, actually. They're just making a living off their art and that feels increasingly out of reach, but that does feel like the goal. A friend just moved back here, got out of grad school and he's had two solo shows, and he's paying for a studio out of that, a nice apartment with his girlfriend in Echo Park. But that's just based solely on having been able to sell a lot of work very quickly. That feels rare, but also is doable. And that's where I would like to be, just to have the time to do what I'd like to be doing.
What do you think is the pathway for you to be able to make a living from your art?
It's probably just the momentum of being in the right kinds of shows, and knowing the right kinds of people, and that kind of thing. It's an honestly hard question. Someone outside of art world asked that — how do you get into shows and I'm like, I don't know, I've been doing this for like 10 years. I don't really entirely know either. It's a who you know thing. That's what it boils down to. I have fantasized at least once a week about having a great sold out solo show, where I'll finally be able to not go back to working a retail job. But that is honestly the only way I can imagine that happening for me.
Read more about the Artist Pay Project.