The veteran stripper fighting for workers' rights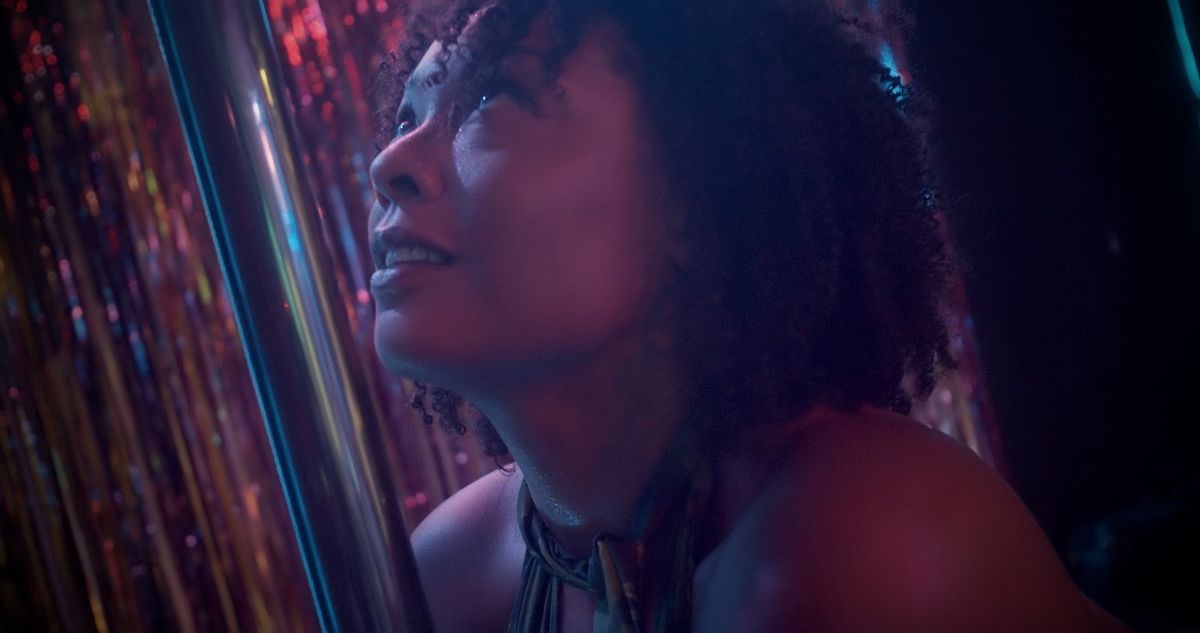 This interview was originally published in August 2022.
A gifted pole dancer, NatsHoney began working in clubs in the early 2000s. She declared herself an artist early, "a stripper artist," about two years after she started working.
Dancing "feels like a magical connection performing for others. It feels like, other than intimacy, it's the closest you can get to someone. You can lock eyes with someone and totally make them change their outlook on life," she says. "It can also feel very anxiety ridden … Sometimes it's safe. Sometimes it's dangerous. Performing is all of those things."
It was also early in her career when NatsHoney experienced her first brush with advocacy, at a club in the San Fernando Valley called the Frisky Kitty. She noticed that Black dancers were being blocked from night shifts, which are typically much more lucrative than working in the day. "I remember having a conversation with the manager and I was like, 'I don't think you understand, I'm riding with them chicks.'"
At the time, she didn't think much of it, she was simply doing what was right. Those same dancers were friends and taught NatsHoney some of the innovative pole moves she used to wow audiences. If her friends couldn't work night shifts, "then why would I," she recalls. "You want me? Make it okay for them to come too."
NatsHoney took a break from exotic dancing to launch a cannabis collective in L.A., working in the industry for over a decade. She returned to dancing in 2016. Several years later, California approved  Assembly Bill No. 5 in 2019, a labor law intended to reduce worker misclassification by making it harder for companies to treat workers as independent contractors. The law required strippers, and workers from numerous other industries, to be classified as employees, which would in theory provide workplace protections and benefits.
But at many clubs, implementation of the new law was disastrous and had a disproportionate negative effect on marginalized dancers.
"In reaction to AB5, many strip clubs adopted new measures they said were necessary to pay for benefits associated with employee status,"reportedSuhauna Hussain for the Los Angeles Times. "For example, some extracted larger fees and exerted more control over workers' schedules. Other companies ignored classification rules, adopted more selective hiring practices, laid off workers or shut down clubs altogether."
For many dancers, including NatsHoney, the implementation of AB5 was yet another sign that the industry needed drastic transformation. The tipping point, when NatsHoney realized she wanted to go all in on the fight for labor rights, happened while attending a convention in Las Vegas. During one panel discussion, lawyers and leaders from big name clubs discussed AB5.
"They were talking about how as an entity, [the clubs] were able to get ahead of the problem since they had lawsuits," she says. From NatsHoney's perspective, it sounded like club leadership found ways to pass off the additional costs of making dancers employees onto the dancers themselves.
"There's no way on this green earth that I'm going to sit back," she says. According to market research firm IBISWorld, in 2018, the strip club industry brought in $7 billion in revenue. "We should get our fair share."
The pandemic catalyzed many dancers to unite and fight back against the exploitative nature of the industry. Some dancers, including NatsHoney, began organizing and performing in  stripper-run, virtual shows that provided a sense of agency and empowerment outside of the restrictive and oftentimes unsafe club environment.
In 2021, NatsHoney began working with a team of current and former dancers to launch Artists Plex, a brick and mortar space in L.A., where strip artists can take meetings, schedule photo and video shoots, and host shows. Yes, strip shows, but also one-woman performances, film premieres, and fashion shows. The group is currently fundraising to make this vision a reality.
"Just sex worker positive, for all walks of life to come on a membership basis to blossom, to further their professional resume, development," she says. "Our talent is vast and Artists Plex would be the place that actually showcases that in a light that is illuminating, not dark."
NatsHoney and her work with Artists Plex is connected to a larger network of groups fighting for stripper rights. Like concentric circles, they're all orbiting around the same goal: respect, dignity, and power.
NatsHoney volunteers with Strippers United, founded in 2019 by sex worker, writer, and activist Antonia Crane. The group describes itself as "a diverse and inclusive community of empowered strippers who share an uncompromised vision for our rights, our vital role in society and our dignity as professionals."
Strippers United helped the dancers from the Star Garden strip club in North Hollywood  protest and organize for worker protections. Over the past 6 months, the Star Garden stripper strike has gained serious momentum. In August 2022, the group filed a petition for a union election with the National Labor Relations Board through the Actors' Equity Association, the union representing actors and stage managers across the U.S.
NatsHoney is also involved in a group called the Stripper Co-op, a stripper-run, pop up hybrid and IRL strip club experience based in L.A. Event profits and tips are shared between performers, and events have also served as a source of fundraising for the Star Garden strike. (Several of the Stripper Co-op co-founders are Star Garden dancers.)
When asked to describe her paradise work environment —a question inspired by the theme of a Stripper Co-Op show this summer — NatsHoney made it plain.
"Not only are we in an environment that is safe, clean, sanitized, we also are paid hourly, entitled to bonuses and receive a cut of the annual profits. That is a paradise work environment and anything short of that is short. I'm really coming for profits in the end."