$napshot: $24,000 a year as a textile artist and teacher
After talking incessantly about starting an art rebellion TikTok for the past year, I finally posted my first short video yesterday.
Welcome to the art rebellion, a newsletter amplifying the essential role of artists in our society and the stories of artists who fight to make their communities better.
---
Yay Friday!
Did you do anything new this week? After talking incessantly about starting an art rebellion TikTok for the past year, I finally posted my first short video yesterday. It took at least 5 hours to make just one less than 2 minute TikTok, but I'm glad it's finally live.
The platform's many, many issues aside, I think TikTok is a great way to connect with new audiences, and I'm excited to give it an honest shot these next few months.
I'm back this week with another money snapshot, from a textile artist and teacher who lives in Columbus, OH. I published this one back in March, but I wanted to highlight it here in the newsletter as well.
This artist spoke candidly about the importance of having a partner and a dual income which allows her to make ends meet.
Keep reading to learn more about how she makes a living.
---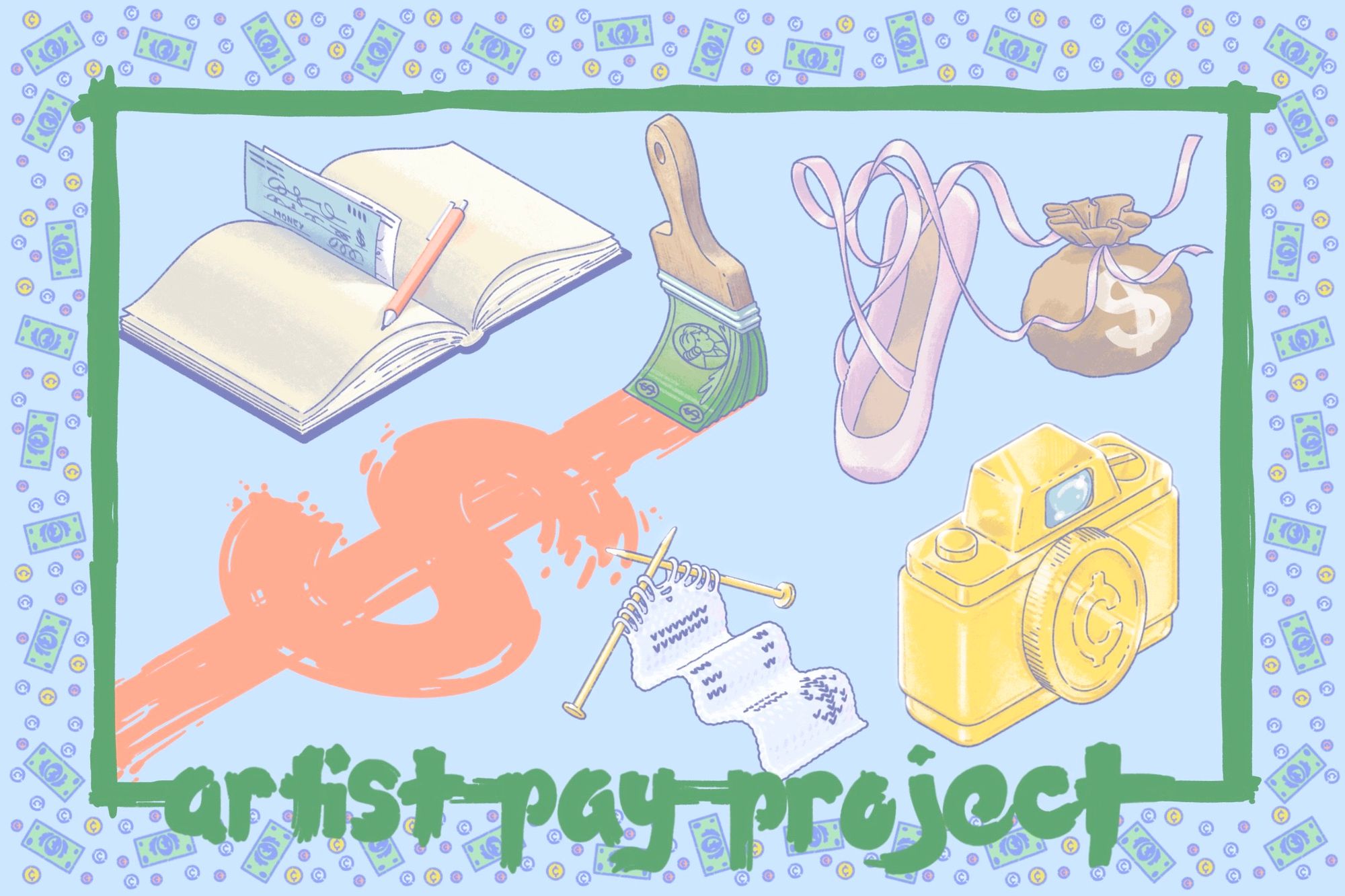 Background
Art Practice: Textile artist and teacher
Location: Columbus, OH
Age: 41
Pronouns: She/ Her
---
Earnings
Income: This varies widely month to month and over the course of the year. In January, I made $613 from teaching, and $558 (take home) from working at my day job. I got a $600 honorarium for an installation I did. My Etsy was on vacation and I wasn't doing any craft shows, or commissions, so most months I would also make another $500 to $1000 from selling things I make.
Most years I earn around $24,000 between teaching, my day job, selling things, and grants/honoraria.
What percentage of income is from art practice?
Roughly half, although this can change a lot year to year depending on how much I'm teaching and where, and if I get any large grants or fellowships.
Where does the rest of your income come from?
I make $18 an hour working at a fabric shop two days a week. I also teach sewing, quilting, and some printmaking there two to four days a week. What I earn from those classes varies depending on how full they are, but it's between $15 and $50 an hour. I used to teach a summer intensive as an adjunct at an art school in Chicago which was a big chunk of my income but it didn't get renewed this year. I'm looking into trying to pick up a course or two here in Columbus.
How much did you earn from freelance work related to your art practice?
I do some production sewing for a couple of clients here for $20 an hour. It comes in chunks at different points of the year but usually I'll get a pile of fabric and spend a couple of days making bags/pillows/garments out of it. It usually comes out to around $250 to $300. I'll also occasionally make clothes or quilts on commission for people. I also try to charge $20 an hour plus materials for that work but it really depends on the project/person.
How do you price your art?
I try to pay myself at least $20 an hour after materials for the things I make. I make hand-dyed, hand-printed, hand-sewn crafts which I consider part of my art practice and I sell online and at craft fairs. Most of what I produce in my fine art practice is not actually sellable — I do a lot of collaborative and community work. It doesn't feel like that work belongs to me alone and I don't have the right to sell it. So I finance that work through grants, honoraria, fellowships, residencies. It depends, but I usually earn around $5,000 a year with that kind of art funding.
---
Expenses
Housing: Our mortgage is $1,800 a month, plus another $300 or so in utilities and insurance. I live with my partner and our dog in a house that we own, and I have a studio in our backyard.
Major monthly expenses: $500 for groceries and another $300 or so for eating out; $200 for prescription drugs/insurance; $150 for internet/cell phone. I also send $150 a month to help out my mom.
Expenses related to art practice: $30 a month for Adobe Creative Cloud, and around $150 most months on supplies for my practice, although that obviously varies widely depending on what I'm making. I get a 30% employee discount at work which is a huge help, and I try to work from donated or discarded fabric and materials as much as possible. I'm currently taking a natural dye class which will end up costing around $800 for fees and supplies, but that is being paid for by a professional development grant.
---
Larger financial picture
Do you have any financial support from outside sources?
Yes! My partner is a professor and makes around $44,000 a year, and we definitely wouldn't be able to make ends meet without his income. It's also really helpful that it is steady/reliable whereas mine swings wildly from month to month and year to year. I also get around $4,000 a year from dividends from stock that were a gift from my grandparents when I was a child.
Have you received any grants to support your art?
Yes. I tend to get around $5,000 a year in arts funding (whether through grants, residencies, or fellowships). My biggest support was a year-long artist residency which paid $14,000.
Do you have health insurance?
Yes, through my partner's work, although it is expensive and not great.
Do you have any debt?
Just our mortgage.
Do you have savings?
Yes, we have around $250,000 in savings (not counting our house).
Did you pursue higher education?
Yes, I got a liberal arts undergrad degree and a MA in Social Practice. I did not end up with educational debt through a combination of scholarships and family support.
Is there anything else you'd like to share?
I have so many money feelings! And I think it's really important to talk about money and art. So many factors go into my being able to be a working artist. Generational wealth is a huge part of it. I definitely wouldn't be able to do what I'm doing if I was carrying a heavy college debt load, or if I didn't have a safety net that could help us out in case of catastrophe. Having a long term partner was also huge — we have been able to save a lot since we've been living together since college and it's kept our living expenses so much lower than many of my friends. And we don't have kids (and don't want them) which also helps us to live comfortably on our combined incomes.
I also feel a lot of guilt for not earning more, but I have a lot of mental health issues that have made it difficult/impossible to hold a full time job for the past decade. Working a variety of flexible gigs lets me be more or less productive as I am able and be responsive to where I'm at emotionally. And I really value the freedom not to have to monetize big chunks of my art practice. It allows me to engage in slow, long term collaborations in a way that feels both fruitful and ethical.
---
Linky links
(Please email me if you'd like a PDF version of any links!)
---
Have a great weekend! Go get a fall drink. I'm planning to have a chaider — an amazing mix of chai and cider.
As always, thank you for taking time to read this newsletter. Please consider sharing it with a friend, subscribing, and following our Instagram and TikTok accounts.
🍁