Artist Pay Project: More $napshots
11 artist pay surveys are currently live
11 artist pay surveys are currently live online

Welcome to the art rebellion, a monthly newsletter amplifying the essential role of artists in our society and the stories of artists who fight to make their communities better.
What does it take to make a living as an artist?
by makeda easter
It's been a while.
"Whirlwind" has been an overused word in my vocabulary over the past year, but it still rings very true.
In April, I finished my two fellowships at the University of Michigan. I'm incredibly grateful for the opportunity and I feel changed in ways that I'm not sure how to articulate yet. I came to Michigan simply wanting to grow my newsletter, but left wanting to make art?? (More on that in a future newsletter).
Leaving the cocoon of goodness of these programs, all the new friends I made, and shifting into the unknown is a bit unsettling. In May, my husband and I also moved to Chicago, as he begins shooting a documentary he's been dreaming of making for the past decade.
While traveling these past few weeks, I had a weird moment when I woke up panicked, completely unsure of where I was.(Note: I was in Detroit). Now, I'm finally starting to get into something of a routine. All that to say, it's been hard to find time to work on this newsletter. But that's not to say I haven't made progress.
When I launched the Artist Pay Project earlier this year — an effort to chronicle how exactly artists survive and thrive in the U.S. — my goal was to survey 30 artists about their finances. The goal felt lofty but doable, and I ended my first funding period with 26 surveys, which I'll be working to publish on my site and social media over the next month.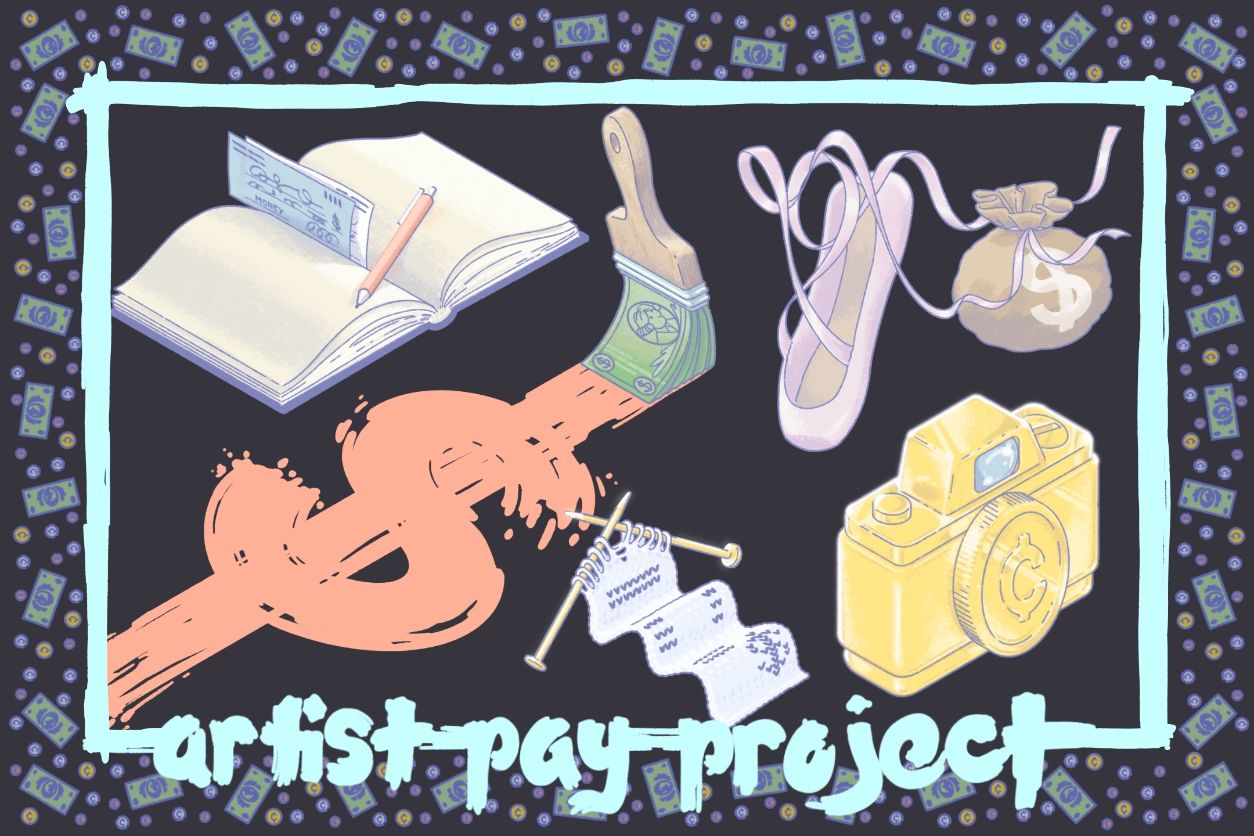 I commissioned artist Zindork to create this illustration for the Artist Pay Project.
I'm so excited to spend this summer analyzing these interviews and gearing up for the next phase of the project — conducting and publishing even more interviews, weaving in solutions-focused stories about programs that ensure artists are paid fairly, and using the reporting to make art about pay equity.
11 artist pay surveys are currently live on the art rebellion. Here are a few excerpts I recently published.
Artist $napshot: Elizabethtown-based mural painter
This Artist $napshot tells the story of an independent mural painter who makes $13,000 a year.
"One of the big reasons I left my full time agency job was because of the deadlines," she told me. "I just felt like they were life and death. That was literally an excuse I gave my boss when I went to start my own business, because I just wanted to be able to make those decisions myself."
Although she enjoys the freedom of running her own business, achieving financial security has been tough.
"There are some days where I feel really good about it. And then there are other days where quite frankly, it leaves me in this depressive state. It's a balance of keeping an eye on it enough that I know what's going on, but I also can't focus on that because it stresses me out. I know that I'm going to be okay for the next couple of weeks, but not knowing how I'm possibly going to survive next month, that is very worrisome. It keeps me up at night all the time."
Read the full survey here.
Subscribe to the art rebellion
Artist $napshot: Peekskill-based dancer and choreographer
Another Artist $napshot focuses on a 31-year-old dancer and choreographer in New York who makes between $25,000 and $28,000 a year.
A freelance artist since 2016, "in some ways, it's gotten easier," she said. "In some ways, it's gotten harder, just because things are more expensive. And thinking a bit more about future planning and wanting a child, so I'm especially now thinking about how I need to make more money."
Read the full survey here.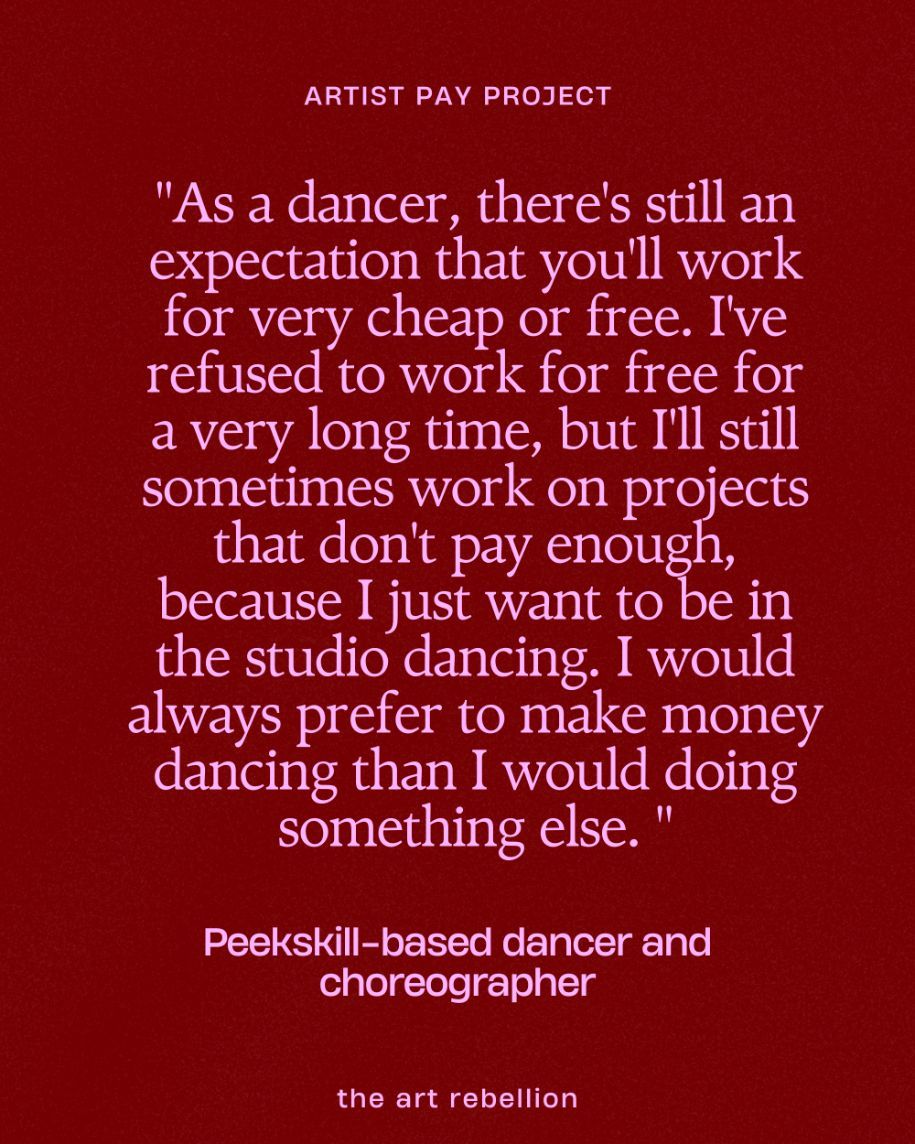 Artist $napshot: Springfield-based drag performer and multimedia artist
I was shocked when one Springfield, MO based artist said they made just $17 for performing in a recent show.
They explained how payment works in some local bars:
"It used to be where if you were in the main show, you would only make tips. And it's Springfield, Missouri, so people aren't tipping a lot. So I would have days where I would only come home with like $10, $20 for doing two performances.
They changed their structure to where you would get a paid booking. If you were chosen to be in the main performance and not pre show, that ranges anywhere from $15 to $45. It depends on what day of the week you [performed]. When I did my first paid booking there, I only got $20, and then with my tip, it was like 30 bucks.
But for other places — I'm a part of a drag family that does their own variety shows at different places around the 417 area code. There's been times I came home with $200 — $100+ dollars and tips and then a $50 booking fee. Last night I did a show, it was a $50 booking fee and I made $70 in tips. So it really does vary a lot of times. I found that honestly doing private shows or really big book shows get you more money than doing the everyday, Friday and Saturday gigs. It's like the specific gigs that get you the most money."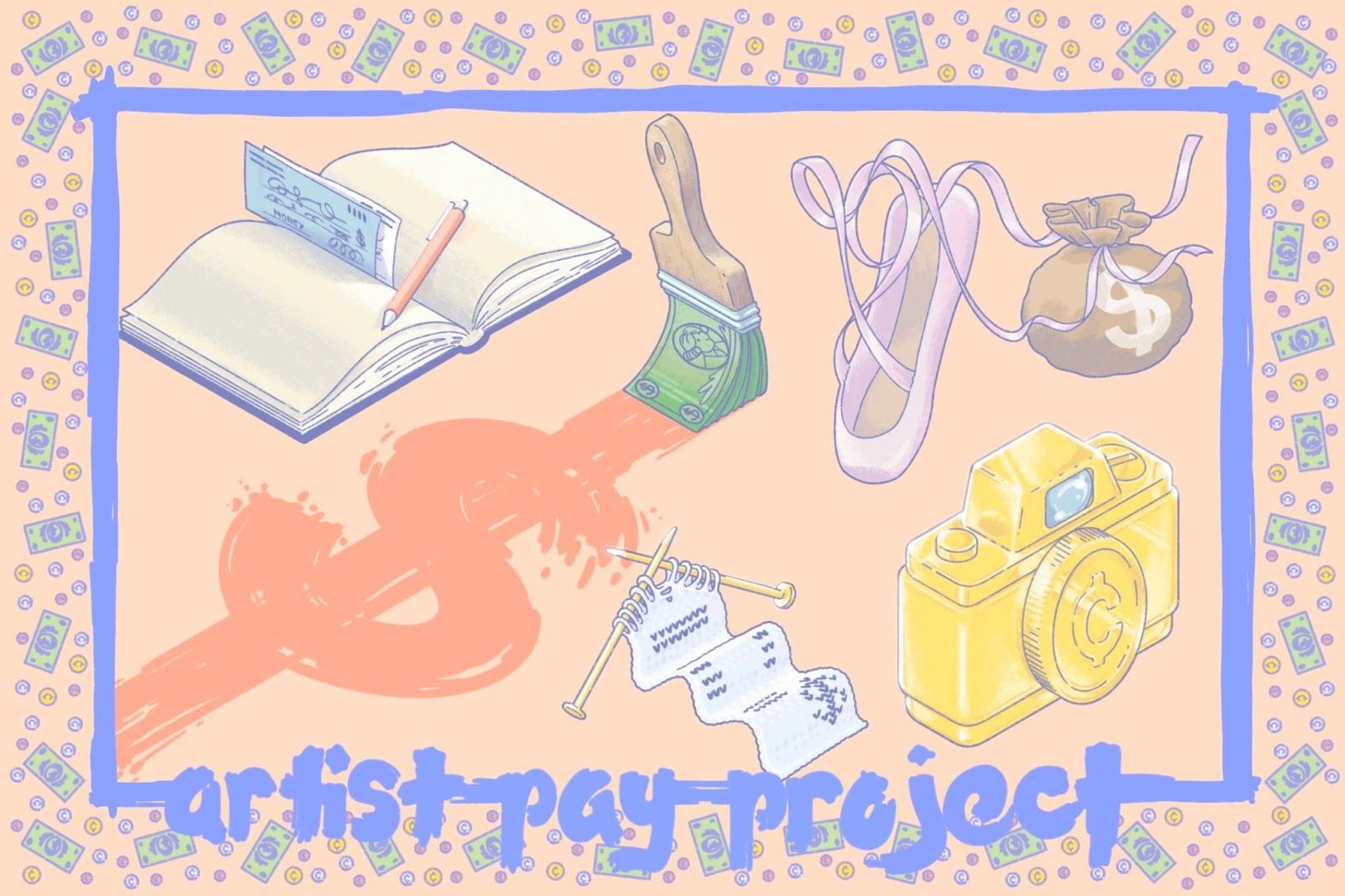 Artist $napshot: Springfield-based drag performer and multimedia artist
This 21-year-old artist in Missouri makes less than $500 a month. Read more.
Recapping our first live event
In my April newsletter, I shared that I was hosting my first IRL event in Ypsilanti, MI. The performance, talk-back, and collaging workshop focused on pay equity was a success, and I'm already excited about hosting more events in the future.
A special thank you to my research assistant Rebecca for helping me organize everything!
Here are some photos from my a friend and fellow Knight-Wallace fellow, Jarrad Henderson.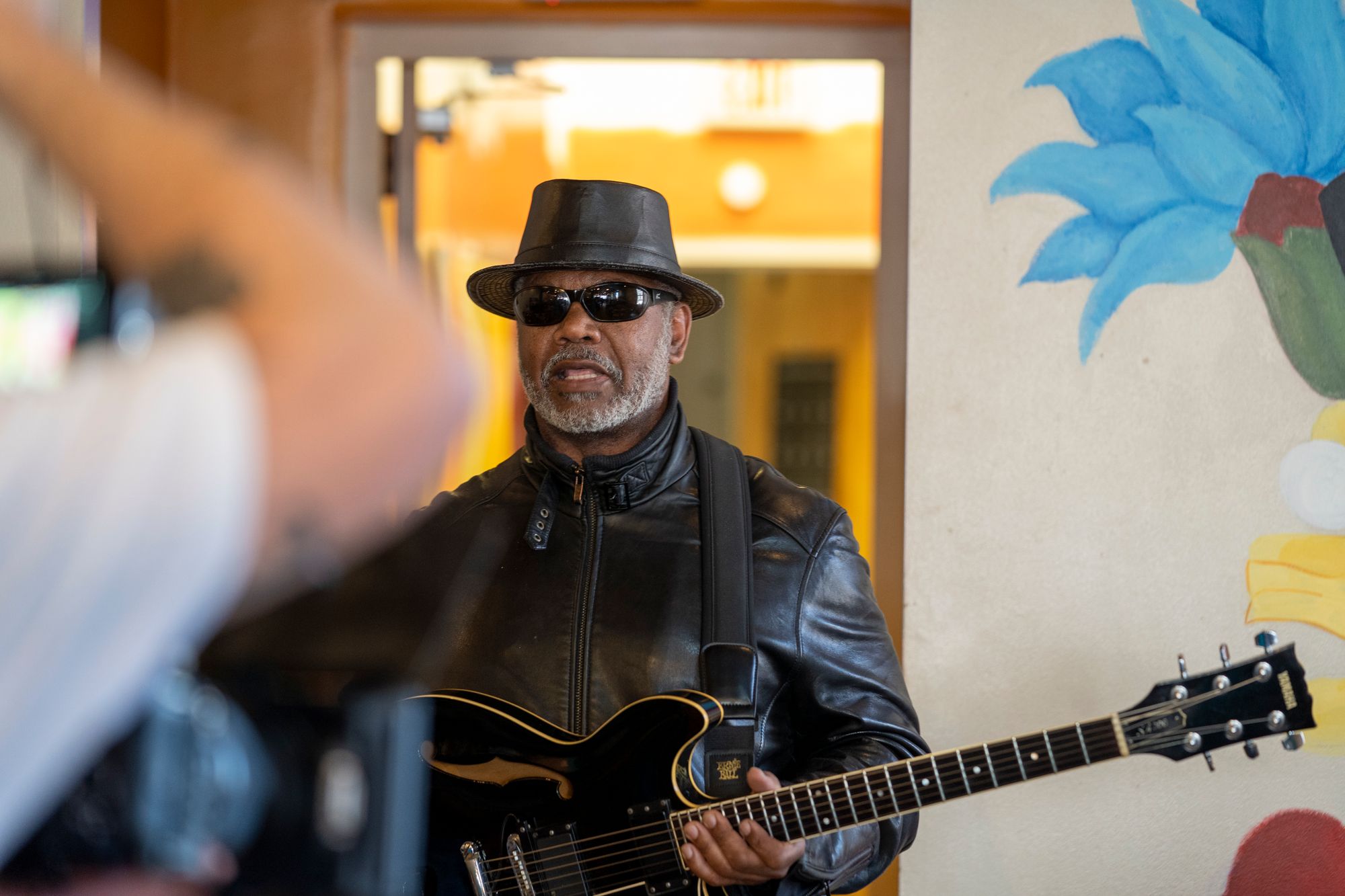 John E. Lawrence is a lifelong Ypsilanti resident and respected guitarist.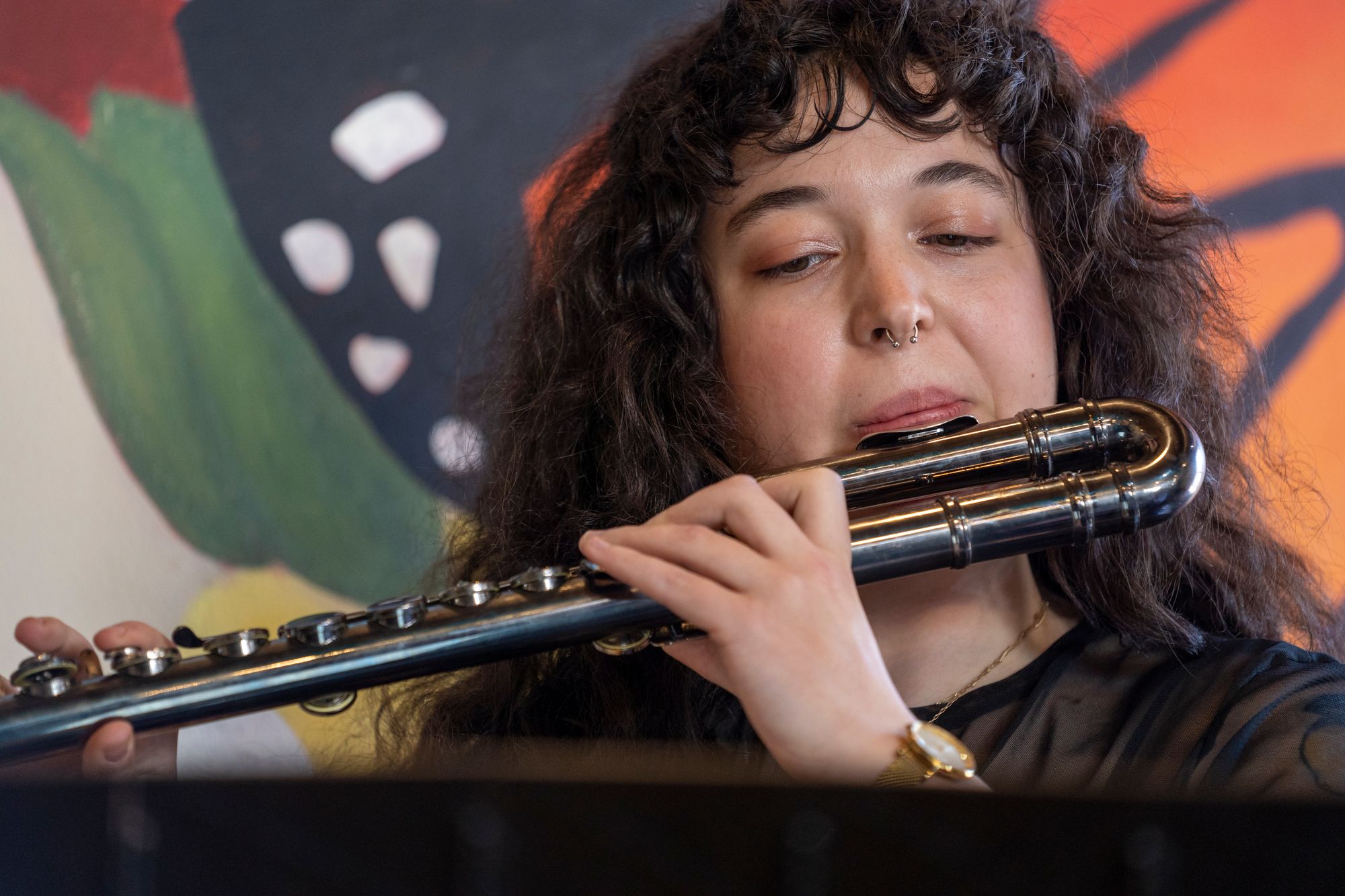 Justine Sedky is a classical and experimental flutist and performing artist.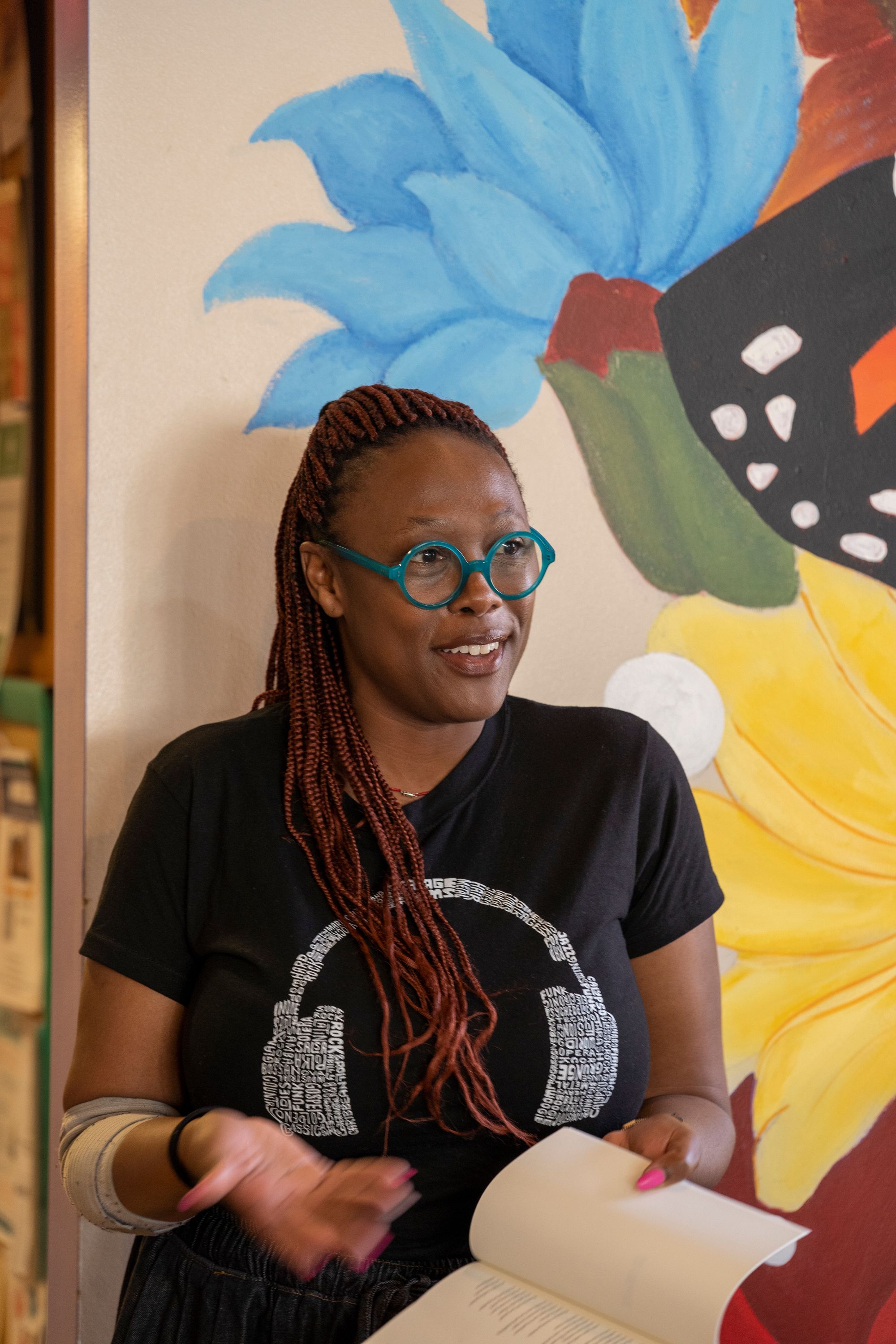 Nandi Comer is a Detroit-based community leader, educator, and Michigan's new poet laureate.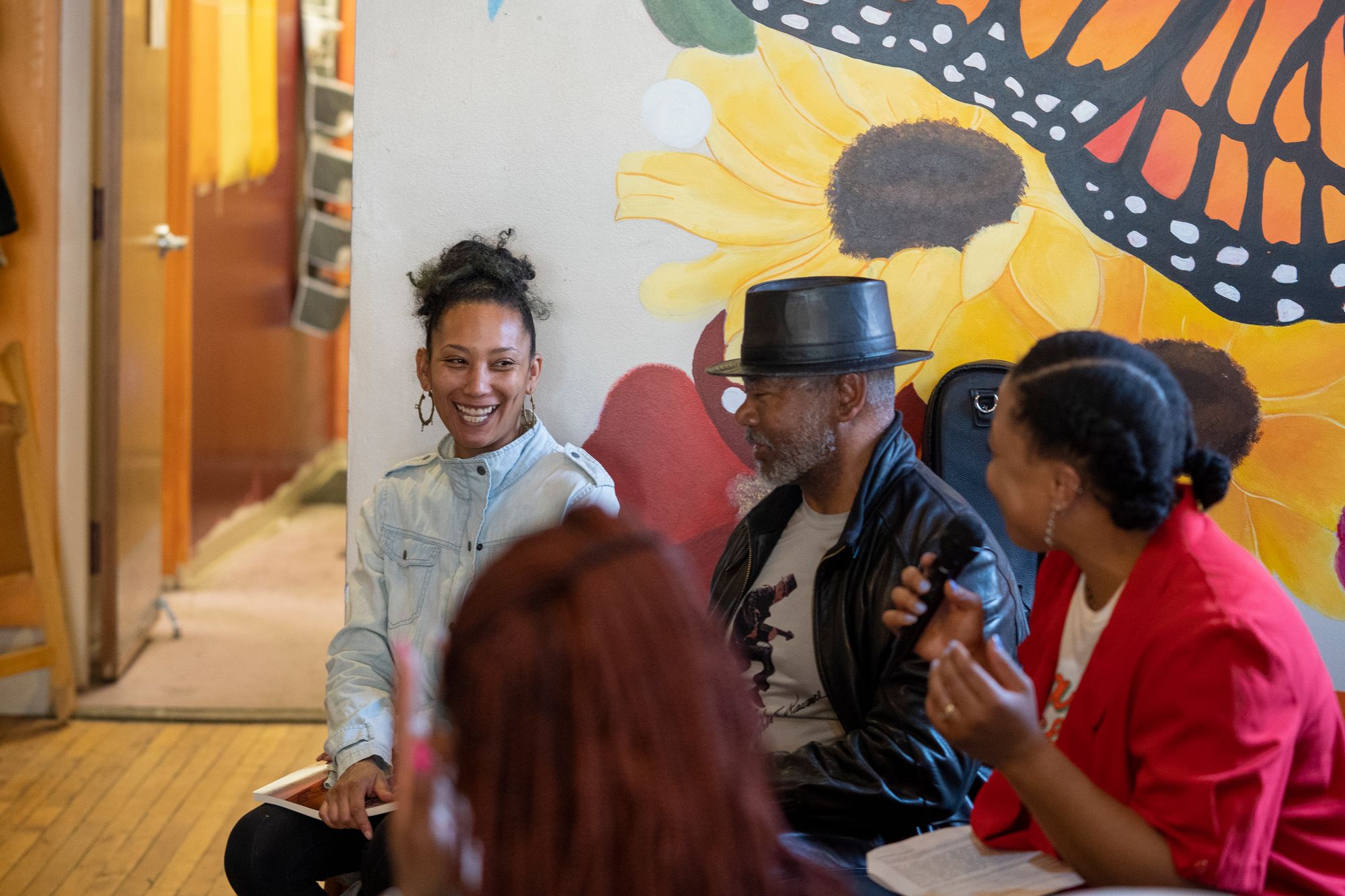 After the performances, the artists spoke about the ways they've been able to make a living while making their art.
Interesting finds
-This spring, I was lucky to catch an experimental orchestral performance of Julius Eastman's "Femenine," performed by the L.A.-based collective Wild Up.
Eastman, a composer who was young, gay, and Black, challenged musical conventions of the 1970s and 1980s. The performance of his work in Michigan was incredible, an auditory treat that transported me into another dimension.
The University Musical Society is offering a free 20-minute stream of the performance in celebration of Pride month. Watch here.
-I was recently introduced to the weekly newsletter, Nothing for the Group, by dramaturg Lauren Halvorsen. The newsletter has a money diary series focused on theatre workers called "Bills, Bills, Bills." If you're enjoying the Artist Pay Project, you'll definitely want to check these out.
What do you think of the Artist $napshots? How do they make you feel? Is there anything else I should be considering when it comes to artist pay? Hit reply and let me know.
And as always, thank you for reading. Please consider sharing this newsletter with a friend and following the art rebellion on Instagram.
I'll be back in your inboxes soon 😊.
Our mailing address:
620 Oxford rd
Ann Arbor, MI 48104
Copyright © 2023 the art rebellion, All rights reserved.
620 Oxford Rd, Ann Arbor, MI 48104