Creating safe and liberating spaces in dance
Choreographer and organizer MK Abadoo on the importance of community-led, inclusive work.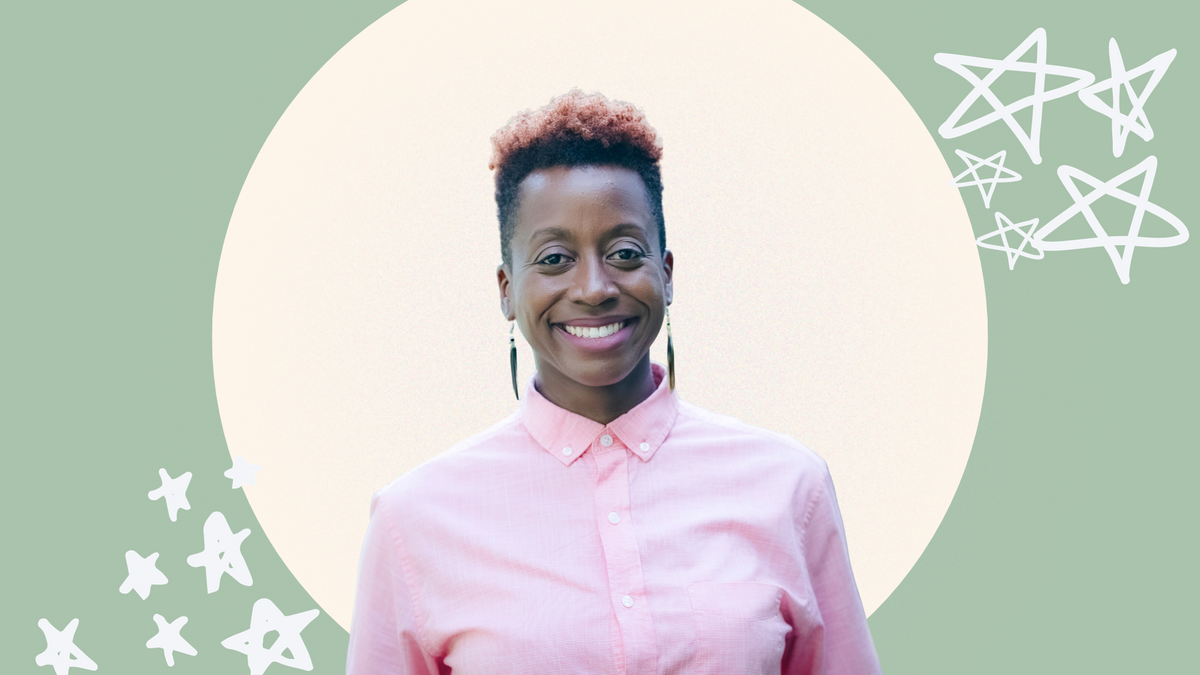 In the fight for justice and freedom for Black women, girls, and those who are gender expansive, there are people carrying clipboards. Others making calls. Others who are caregivers.
And some make dances, said choreographer MK Abadoo. "All of my work is in service to the movement for Black lives, for queer and gender expansive Black folk — women and girls."
Based in Maryland and Virginia, Abadoo's work in dance is guided by community and collaboration. Their company, MKArts, amplifies the experiences of gender expansive, queer Black cultures through immersive performances. Abadoo, who received a Dance/USA fellowship in 2022, is also a trainer with the People's Institute for Survival and Beyond, an anti-racist organizing collective founded in 1980.
Abadoo's framework for their choreography stems from their own evolution in dance.
Abadoo is certain she danced in her mother's womb, even before she formed her earliest memories. When she was about 4, she began taking ballet, tap, and creative movement classes. "I really grew to appreciate the heightened sense of reality that happens in the performance space, when people come to bear witness, the celebration of the whole event."
Although dance brought Abadoo joy, attending a performing arts high school introduced negative messaging about her body and technique. "Instead of knowing how to really talk about the anatomy, it was a lot of tucking my booty in, which was impossible because it was already out," she said, laughing.
"There wasn't a practice of teaching from affirmation, which is how I teach now. I have a vigorous affirmation practice, because you can get people to do something by being corrective and strict, and pointing out what they're doing wrong. That has its effectiveness, but at what cost?"
In college, Abadoo became enamored with the social justice mindset of many modern dance choreographers, particularly Katherine Dunham, an activist and anthropologist who fused Black American, Caribbean, and African movement styles to create her own technique. Abadoo also studied and was influenced by traditional and neo-traditional Ghanaian techniques.
Experiences performing with groups including Urban Bush Women, the Dance Exchange, and Gesel Mason Performance Projects, "really shaped the way I do my art, with an emphasis and strong values around being intergenerational, anti-racist, community honoring, accountable in our making, and also a sense of really bold vulnerability."
Their recent work, "Hoptown," is a reflection of those experiences. The immersive dance performance premiered in May and is inspired by the almost parallel lives of Abadoo's mother, Regina Bowden, and Black feminist author bell hooks — women who are both from Hopkinsville, KY, or Hoptown.
One of the main themes in the work is how Black women and girls care for each other across generations.
Hoptown's cast is intergenerational — the eldest is in their late 80s and the youngest is Abadoo's daughter, who is under 10. Rehearsals were a collaborative effort. "I really try to honor that I'm a creative director, and perhaps lead choreographer. But choreography does happen between myself and the cast. People know they get to claim co-ownership of the actual movements generated."
Community building is also a crucial part of the process.
While developing Hoptown, Abadoo and the cast formed relationships with community members in Hopkinsville through workshops and meetings, ranging from family style dinners with leaders, to movement-based gatherings, to touring local churches.
Abadoo partnered with Lipstick After Dark, a mentorship program for Black girls in Kentucky. Girls in the program taught the MKArts team handclap games, which was later incorporated into the choreography.
They are also working to make the performances more accessible by developing an artful audio description practice for audience members with low vision or those who are blind, amplifying sound, and incorporating different dialects of American Sign Language.
Abadoo considers each community or venue they perform in to be a partner in their anti-racist cultural organizing. When working with presenters, they ask how the site is accountable to their communities. It's a continuation of their work with the People's Institute and leading arts organizations in anti-racism trainings.  
"I am mindful that as a touring artist, it's participating in a formalized, institutionalized process," Abadoo said.  
"The performing arts don't necessarily privilege our folk. So if I'm going to be there, and I have some leverage around how resources are used, then that's how we're going to do the thing."
Organizing with the People's Institute also helped Abadoo gain clarity on the importance of "being intentional about how I engage the practice of being a performing artist," she said.
As an assistant professor at Virginia Commonwealth University, Abadoo has taught classes focused on dance and justice, training emerging artists on "what it means to be in this accountable relationship with the communities in which they do their art, and understanding dynamics of power."
They also think deeply about internalized bias and how it shows up in the studio. "As a dance teacher, I am biased. My training has biased me to pay attention to the most advanced students."
To confront that bias, she focuses on different students each class and provides a lot of affirmation. "Just telling people, you're a good dancer," she said. "In college, a lot of times they've trained since they were three — they've internalized what they're lacking. And they come to class thinking about what they're not good at."
From making dances, to teaching dance, to creating new spaces — Abadoo is starting the first DMV and DC troop of Radical Monarchs, an activist group for girls and gender expansive youth of color — everything is connected. It's about our shared humanity and creating joyful, liberating spaces.
"There's institutional work, but then there's also the internal, beloved community building work because it's not easy to be vulnerable with other people who have to defend themselves all day," they said.
"The organizing work at the center of my choreography is creating these spaces, these containers, where we as a people can feel safe and comfortable being vulnerable, and caring for each other across generations."