Artist $napshot: Lubbock-based choreographer and educator
I feel like I'm right now in the most secure position that I could be in as an artist, because I'm a faculty member with tenure at a university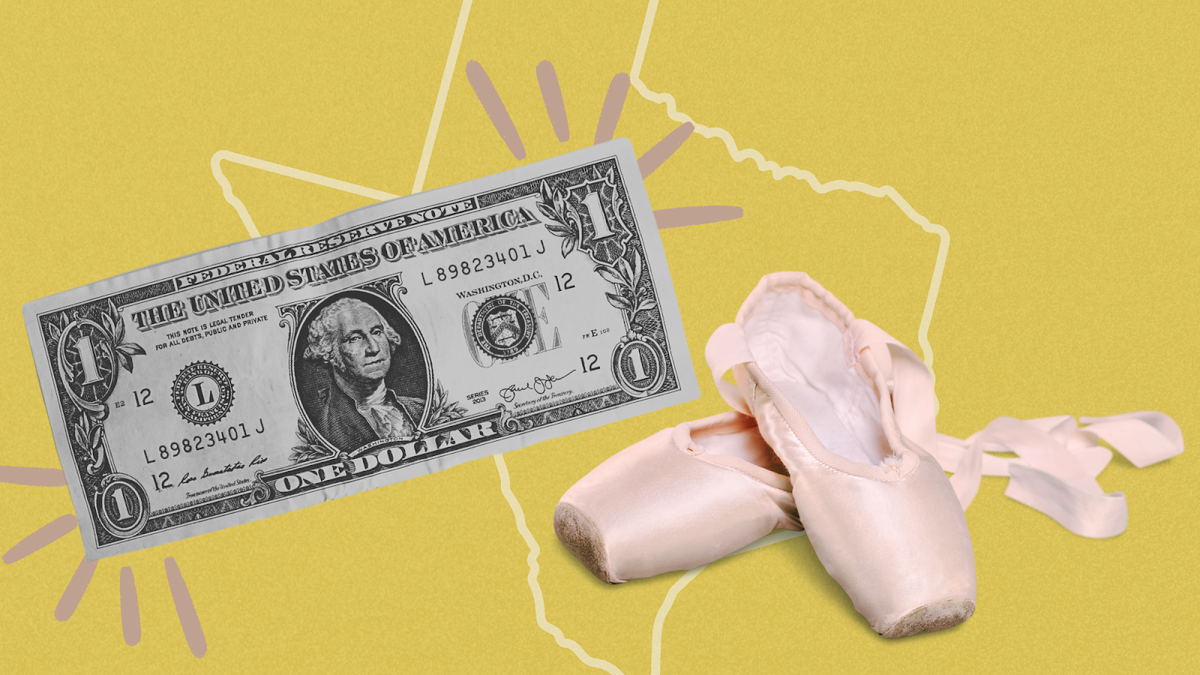 The Artist Pay Project is a series exploring how artists in the U.S. survive and thrive amid a cost of living crisis.
This Artist $napshot tells the story of a 43-year-old choreographer, dancer, arts administrator, and educator who earns between $90,000 and $102,000.
Survey
Art Practice: Choreographer, dancer, arts administrator, educator
Location: Lubbock, TX
Age: 43
Pronouns: She/ Her
---
Earnings
Income: $90,000 to $102,000 a year
What percentage of your income comes from your art practice?
40%
Where does the rest of your income come from?
Teaching and research at a university makes up the other 60%.
How much are you paid for your freelance or contract work?
My work as an arts administrator and performer is contract-based. I typically make $2,000 a year as artistic director of a dance company, about $2,000 a year as a choreographer, and about $2,000 a year as a dancer.
---
Expenses
Housing: $880 a month – I split mortgage payments with my husband.
What are your major monthly expenses?
$1,600 for utilities, car payment, childcare, insurance, and student loan repayment.
Do you have any expenses related to your art practice?
$150 a month in supplies (shoes, KT tape, postage, website, etc.)
---
Larger financial picture
Do you have any financial support from outside sources?
Spouse splits the costs of our household, grants and my university support my work at the university.
Have you received any grants to support your art?
Yes [Elaborated below]
Do you have health insurance?
Yes
Do you have any debt?
Yes, about $30,000 in student loans
Do you have any savings?
Spouse and I have about $150,000 in savings and $30,000 saved for son's college, plus savings related to retirement
Did you pursue higher education?
Yes
---
Q&A
Responses edited lightly for length and clarity.
How do you feel about your financial security as an artist and professor?
I feel like I'm right now in the most secure position that I could be in as an artist, because I'm a faculty member with tenure at a university. Typically, that means that we're paid a little bit more than someone who might work in a K to 12 environment. And certainly paid more than I was when I was performing professionally. And once you have tenure, it's a lifetime appointment, so there's a lot of security there. There are a lot of opportunities as well because I work for a research university which provides support for my artistic projects.
It is 40% of my job to do creative and scholarly research. But they also have internal grant programs. They have grant support for grants that I want to apply for outside of the university, for the nonprofit company that I direct. There's a lot of opportunity around what I'm doing right now. And it's definitely not indicative of what my early, or even mid career was like. Most of that was independent performance for different companies and organizations. And that felt very more pieced together than my current role does. That comes with upsides and downsides. But I definitely feel like I'm in a more financially secure place right now, for that particular reason. I suppose I should add that my current job also has the benefit of benefits. So I'm able to save for retirement and there are some health insurance and other benefits like that really didn't exist in some of the performance projects that I was a part of, prior to this job.
Was becoming a tenured professor something that you envisioned doing in your early days as an artist?
It's definitely not something that I envisioned for myself, and I really never envisioned teaching at all. I just wanted to perform. But then, once I went into an MFA program, I realized the security and stability that teaching could offer me and I also realized that I was decent at it and maybe had a shot at making this a part of my career.
I saw opportunities for teaching to support the artistic work that I wanted to produce after I got that graduate degree, and I knew I wanted to shift from being more of a performer to being more of a dance maker, and maybe even an administrator. But teaching was something that I viewed as something that could support that artistic work, rather than something that integrated with it. And now I kind of see it a little bit differently. I see my students as people who can co create work with me. And it definitely does support my artistic work. And sometimes I wish I could do just that work. But that's how I got here.
Can you talk about being a freelance artist earlier in your career — what were the biggest challenges that you faced when it came to making a living as an artist?
There's just not a lot of support for artists in this country. Looking back, I  wish I had developed networks, maybe in Europe, maybe even in South America, places where I perceived there is more federal, and local support for arts practice. But at the time, I felt a little bit like I was piecing together a living and sort of flying by the seat of my pants. I might have a job for three weeks, I might have a job for six months, but it was never something that could be considered permanent. I mean, part of that is because I was never a strong enough dancer to be in a company that could employ me year round. And frankly, I don't even know if such companies exist anymore — maybe in the ballet area — but I was not a strong enough dancer for that.
So it was this gig-based employment. And that felt very insecure to me. And I always felt a sense of panic, like, okay, what's the next thing that's coming? And am I okay to keep doing this? Or is it time to settle on a plan B? Is it time to give up this dream? That was always a question in my mind because of the lack of financial security as a performer.
Given your past experiences and your experiences now working with young artists, what resources do you think would help the most when it comes to making a living and making art?
I really think our federal government needs to step up and secure arts practice as something that's vital to a thriving society. And I'm seeing other societies do this. It's a great way to piggyback on the public education that we're providing our children and adults and it's going to require a bigger commitment from our federal government, but then trickling down into the state governments and the local municipalities. A lot of the governmental systems of support need to change in order to make arts careers possible, and financially successful. I don't think it would require a huge commitment from these governments.
But I do see that as the missing piece. And especially for dance, because live performance is so unique. Since we're shifting into a mediatized space with social media and our phones all the time, it feels like we need more of a boost in order to keep live performance going and to help people understand how critical it is. I think that would be the primary source of support. I also think that degree programs and colleges, but even lifelong learning programs could focus on finance for artists. I'm finding that a lot of my students coming into college really don't know anything about finance, nor do they have any short or long term strategic goals for how to support themselves financially throughout their careers. And I don't think that our degree programs are offering them enough in the way of how to be a human, in addition to how to be an artist.
Could you elaborate on how grants work in universities?
For most universities that are research universities, when you come into a tenure track job, you're usually offered some sort of startup package to get your research up and running at the university. You can usually negotiate a little bit more than that too. And I've seen those startup packages range from about three to about $10,000. That's just a chunk of money you get right at the start of your job at that university, to do with what you want, so that could support your artwork if you'd like it to.
Once you're in the university, at least in mine, there are a lot of opportunities for research specific funding that can fund creative activities such as choreography, and performance, and community and socially engaged work and, in the community. I'd say there are between four and seven opportunities that are differently focused each year. So you can apply for seven opportunities in a year. And then if you got them all, they would range from between $1,500 to about $5,000. There are some larger opportunities depending on your arts programs.
My college is a College of Visual and Performing Arts and they offer a $15,000 grant every year you can apply for. It's pretty typical to receive those grants maybe once every three years. I'd also say interdisciplinary work is really encouraged in my university. So if your choreography or performance aligns with engineering, or poetry, or some other discipline across the university, they really want to support that at my school. So that's something they'll offer you money for at any point. In addition, they usually typically have travel grants available. So if you need to travel somewhere to perform or to set work on another company or university group, they'll pay for your travel for that.
Can you speak more about your debt?
I hold about $30,000 of student loan debt. My spouse has about $100,000 of student loan debt. So together, it's a pretty hefty amount. And I mean, luckily, over the past few years, there's been a total stoppage of student loan repayment during the pandemic, but I really have no idea where that's leading to. We're both part of the program — it's a repayment program if you work for a public institution like a university. Once you've made 10 years of consistent payments, allegedly your debt completely is wiped out by the federal government. I know there have been a lot of issues with that program. So we're not counting on that. But we're hoping that it goes through, because each of us have about a year left to pay on our student loan debts before 10 years is up.
That's our situation with student loan debt. And the major issue with that for us has been that we have a son and we're trying to also save for his college. So we're still trying to pay ours off and save for him at the same time, which feels like a lot. But I'll also say it's not stopped us from being able to buy cars or get a mortgage on our house. I've heard it's the best kind of debt to have, but I don't know, I'm not an expert on that.
Read more about the Artist Pay Project.